PSA - Workplace Hazards Identification & Remediation of Potential High Hazard Conditions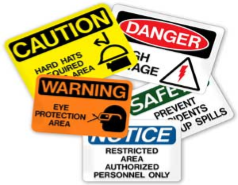 8:00 a.m. - 12:00 p.m.
Starting at: $150.00
This Certificate Program focuses on topics and dangerous conditions in the workplace that deserve special mention in your efforts to establish and protect employee health and safety.
Topics Include:
• Control of hazardous energy (Lockout/Tagout)
• Electrical hazards
• Temperature extremes
• Air contaminants
• Asbestos
• Occupational noise exposure
• Combustible dust
Four (4) Contact Hours.
Cost: Members $150.00 per person
Non-Members $250.00 per person
If your company has 5 or more employees that need training, call us and we can come to your facility.
Cancellations less than 24 hours in advance and no-shows are responsible for the full registration fees. Substitutions may be made at anytime. Non-members must prepay to register.