Certificate Program in Culture & Human Performance for Safety - SIF: Serious Injury or Fatality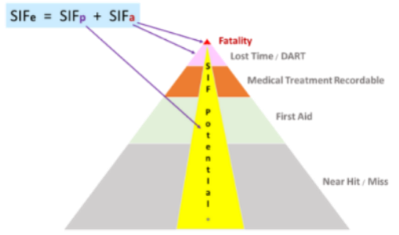 Three Cutting Edge, Inter-related Safety Subject Areas
David A. Varwig, MA, CSP, CSHM, CUSA, LSE
Safety Professional & Organizational Effectiveness Consultant
► JUST CULTURE
Starting at: $95.00
9:00 a.m. - 12:00 p.m. each day
Course of Instruction involves: Three 3-Hour training modules:
● Feb. 14, 2019: Just Culture Overview including 6 question discussion exercises to evaluate yours.
● Feb. 21, 2019: Shared (Safety) Accountability Process applied to Unsafe Acts and Violations (in an interactive student exercise)
● Feb. 28, 2019: JC Protocols for Incident Investigation and Lessons Learned Reviews
Cost: Members $95.00 per module
Non-Members $145.00 per module
► SIF: SERIOUS INJURY or FATALITY
Starting at: $150.00
8:00 a.m. - 12:00 p.m.
Course of Instruction involves: A 4-Hour training session
● Mar. 28, 2019: Explains the subject matter in detail, exactly what can be done to prevent a SIF through the use of a 24 page guide that will be provided, titled: SIF (Serious Injury & Fatality) Prevention Guide in Support of LSRs, Life Saving Rules
We need to recognize when we are exposed to a Serious Injury or Fatality (SIF) situation and be willing to invest the time & effort to exercise "positive personal control" over our own well being through the application of multiple layers of protection involving barriers, controls, and defenses -- to protect ourselves and co-workers from "serious harm" should we make an "honest mistake" or the unexpected or unintended occurs.
Topics addressed include:
● Significant Hazards, Hazardous Energies, High Risk Activities
● Preventive Measures, SIF Exposure Equation & Flowchart
● Human Performance Improvement (HPI), Critical Steps
● The Hierarchy of Controls, Safeguards & Multiple Layers of Protection
● 9 Life Saving Rules related topics
● Also included will be a review of a model on the elements of SAFE WORK, SIF literature, and background on the "Accident Pyramid."
Cost: Members $150.00 per module
Non-Members $200.00 per module
► HPI: Human Performance Improvement
Starting at: $75.00
9:00 a.m. - 11:00 a.m. each day
Course of Instruction involves: Three 2-Hour modules on:
● May 9, 2019: Overview: HPI in a Nutshell to understand the fundamentals of HPI
● May 16, 2019: HPI Tools: HERTs (Human Error Reduction Tools & Techniques) & Critical Steps and the SAFER Model to manage and mitigate high risk.
● May 23, 2019: Cognitive Biases (Inattention Blindness, Common Sense, Optimism Bias) & Hu Review for Root Cause Analysis and Shared Accountability Review.
Cost: Members $75.00 per module
Non-Members $125.00 per module
Members $595.00 All 7 Modules
Non-Members $695.00 All 7 Modules
Disclaimer: Receive 7 BWC Rebate Attendance Credits, you must attend all classes for the certificate.
Cancellations less than 24 hours in advance and No-shows are responsible for the full registration fees. Substitutions may be made at any time.