Certificate for Occupational Safety Managers (COSM)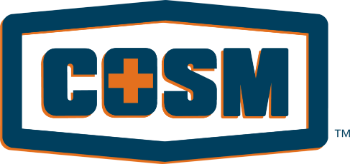 8:00 a.m. - 5:00 p.m. each day
Starting at: $1,999.00
Safety Council of Northwest Ohio
8015 Rinker Pointe Court
Northwood, OH 43619
2023 Dates:  July 31 - August 4
As safety professionals move along in their career path they are in need of training designed for a high-level safety manager. Therefore, the COSS administration has developed the Certificate for Occupational Safety Managers™ (COSM) program.
What is the Certificate for Occupational Safety Managers™ (COSM)?
The COSM Program is intended for the safety professional that aspires for advancement with their organization and to take their safety education and skills to the next level.
The COSM program is an advanced-level safety program consisting of five 8-hour sessions.
What can I expect to learn in the COSM class?
Students must complete the following five sessions to receive the COSM certificate.
►  Essentials of Safety Management
►  Strategic Planning & Evaluating for Safety Success
►  Managing Risk & Safety Finance
►  Communicating the Safety Message
►  Injury Management, Incentives and Discipline
Upon completion students will be able to:
►  Practice techniques that will enhance your ability to manage the business aspects of your safety effort.
►  Interface more readily with other areas of your organization that can support your efforts.
►  More effectively communicate the results of your safety program with senior managers.
Prerequisites
In order to receive the final COSM certificate you must meet the following criteria: 
►  Complete all five days 
►  Turn in all completed assignments 
►  Have a minimum of two (2) years safety, health and environmental work experience
The Safety Council will provide lunch.
Cost: Members: $1,999.00 per person
Non-Members: $2,599.00 per person
If your company has 5 or more employees that need training, call us and we can come to your facility.  
Cancellations less than 24 hours in advance and no-shows are responsible for the full registration fees. Substitutions may be made at anytime. Non-members must prepay to register.
---