OSHA Recordkeeping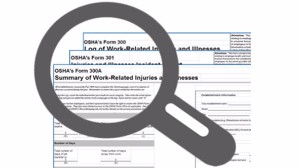 8:00 a.m. - 12:00 p.m.
OSHA's cracking down on recordkeeping violations. Across the country, employers are learning this lesson the hard way.
 
This workshop will help you in your efforts to prepare your OSHA 300, 300A and 301 forms.
Program highlights include:
Working with OSHA 300, 300A and 301 recordkeeping forms;

 Determining accident frequency and severity rates;

 How to compare your performance with other employees whose work and workforce are similar;

How to determine -- and document -- the difference between new and recurring illnesses and injuries;

Defining recordable injuries and illnesses.
Remember! You and your business may thoroughly comply with OSHA standards. However, if you fall short when it comes to record keeping your company can still end up paying thousands of dollars.
OSHA's recordkeeping requirements have been in place since 1971. Their purpose is to help employees recognize workplace hazards and to correct hazardous conditions by keeping track of work related injuries and illnesses and their causes.
Who should attend?
This session will be of special interest to those responsible for OSHA recordkeeping in their organizations- safety professionals, facility managers, clerical workers, worker's compensation care managers, safety committee members, human resources personnel, occupational health nurses and all levels of managers. If you think you might need to know about this, you're probably right and you should attend.
Cancellations less than 24 hours in advance and No-shows are responsible for the full registration fees. Substitutions may be made at any time.
This form stopped accepting submissions on January 11, 2018 8:00 am EST.