Cardiopulmonary Resuscitation (CPR)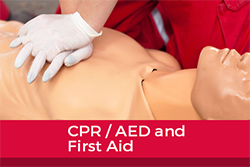 1:00 p.m. - 4:00 p.m.
Starting at: $40.00
This basic CPR training session is intended for community members and/or employees who may need or feel compelled to respond to an emergency. This program is intended to convey and demonstrate the recommended lifesaving care that may be necessary at the scene of an emergency.
When you participate in this CPR program, you will learn:
► The risk factors for a heart attack and/or stroke.
► Information about normal heart and lung function.
► How to recognize a life-threatening emergency.
► When and how to properly activate the emergency medical services (EMS) system.
► How to make a difference in the outcome of emergencies.
► How to provide basic life support (BLS).
► What to do in the case of an airway obstruction (choking).
► How to provide care for a life-threatening bleeding emergency.
► How to provide basic care for someone who may be in shock.
► And more, sign up today!
ASHI CPR CERTIFICATION IS VALID FOR TWO (2) YEARS.
Cost: Members $40.00 per person
Non-Members $50.00 per person
If your company has 8-10 or more employees that need training, call us and we can come to your facility.
Cancellations less than 24 hours in advance and No-shows are responsible for the full registration fees. Substitutions may be made at any time.