Forklift Train-the-Trainer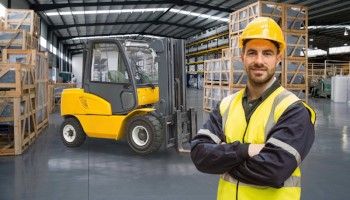 Starting at: $395.00
9:00 a.m. - 3:30 p.m.
This information-packed seminar will prepare participants to teach Coaching System's Coaching the Lift Truck Operator program - which, since its introduction, has been used to train over half a million lift truck operators nationwide. The program offers instructors the tools necessary to meet OSHA's new requirements for formal instruction, practical training and evaluation. Throughout the seminar, attendees will not only complete the course themselves, they will also learn proven educational methods and valuable tips for running a successful training program.
Each participant will receive a COURSE COMPLETION CERTIFICATE AND A complete Coaching the Lift Truck Operator Instructor's kit, which includes:
A fully scripted INSTRUCTOR'S GUIDE that offers a step-by-step presentation with wide margins for notes and customization. It also includes administrative guidelines, testing options, a Class Registration Form, an Inspection Checklist, an Evaluation/Performance Checklist (also used to determine which operators need refresher or remedial training), a Certification of Training and/or Evaluation Form, OSHA background information, and guidelines and exercises for setting up a hands-on training session.
A comprehensive operator USB DRIVE or DVD which addresses pre-start safety considerations, lift truck design considerations and safety procedures for picking up, moving and setting down a load plus:
► A PEDESTRIAN VIDEO to be shown to non-operators working around lift trucks;
► 16 DISCUSSION SCENARIOS depicting actual lift truck "accident" situations to generate group discussion of preventability issues
Six (6) Contact Hours.
Cost: Members $395.00 per person
Non-Members $495.00 per person
Additional Person(s) $195.00 per person (does not include the USB Drive or DVD)
If your company has 5 or more employees that need training, call us and we can come to your facility.
Cancellations less than 24 hours in advance and No-shows are responsible for the full registration fees. Substitutions may be made at any time. Non-members must prepay to register.